The Bending Quartet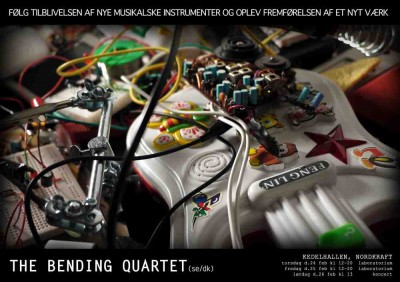 Performance in Transformator, Aalborg 15/12 2011.
Watch videos
The Bending Quartet made a performance on Open Days festival in Aalborg, Danmark, 17/8 2011. TBQ was also holding an open workshop in Turbine Torvet in Nordkraft 15-16/8 2011. Here the participants could follow the development of new handmade/modified electronic instruments.
Two days open creation process of new musical instruments and the performance of a new musical work in Kedelhallen Nordkraft, in Aalborg, Danmark. The project took place 24-26/2 2011. The Bending Quartet will continue to build instruments and perform together.
Performance in Nordkraft, Aalborg 26/2 2011
Watch video
Danish newspaper – Nordjyske.dk – writing about the project
Composers Johan Svensson and Tony Blomdahl from Sweden and Christian Skjødt and Ivan Olsen from Denmark has set out to explore the artistic aspects of Circuit Bending. Together they call themselves The Bending Quartet (se/dk).
In short, Circuit Bending is that you take everyday electronics like toys and radios, and by making various new connections on the curcuit, forcing them out into sounding other than the appliances were originally intended. New, exciting sounds and timbres occur!
Composers
Johan Svensson
Tony Blomdahl – Gothenburg composer, sound artist and producer. Mainly writing chamber music for various settings, often together with electronics.
Christian Skjødt – trained in drums and music technology at Northern Academy of Music, where he now teaches electronic music. Have a special curiosity in noise and noise aesthetics.
Ivan Olsen – trained classical guitarist from Northern Academy of Music and composer from academies in Århus and Gothenburg. For several projects actively work to blend classical and popular music with acting/staging.
The event is supported by the Swedish-Danish Cultural Fund and Se-sam.
Organizer: Kunsthal Nord og Nordkraft Event
More about Circuit Bending
Circuit Bending is a term for the art form that involves experimentally and creatively modifying the electronic circuits. Using mass produced electronic musical instruments and toys to create them into new, different and unique instruments. With new, different and unique sounds and musical opportunities.
Circuit Bending is the layman making shortcuts on areas that otherwise has been largely restricted to technical experts. Most circuit benders work from an 'anti-theoretical' approach; from curiosity more than the acquired theoretical knowledge. Simultaneously it is also the creative individual's way to exceed the limited options the manufacturers of the series-produced products have chosen to make available to buyers of their products. Circuit Bending transforms mass-produceed instruments and toys to unique.
The musical possibilities in a circuit bent instrument is usually also an opportunity for creative musical thinking. Rarely are the sounds and tones they produce in accordance with classic scales and tone systems. Unpredictability is often a feature that well distinguishes this kind of instruments. They are experimental instruments for experimental music, and often requires unconventional playing techniques.