BIOGRAPHY
Johan Svensson is a Swedish composer who is active both within the acoustic and the electronic music. With an equally artistic and technical input into his composition work, he explores alternative ways of producing sounds by electronic means. His current focus is to design sound-generating electromechanical devices as well as explore different relationships between musician and machine that may arise in a live situation. Several of his works have a conceptual starting point and are written for a combination of instrumentalists and electronic sound sources. In addition, visual elements, such as lights and coordinated movements, are material often found in his music. Svensson is Artistic director and a founding member of the ensemble Mimitabu (http://mimitabu.se).
Johan Svensson is currently teaching electronic music at the Academy of Music and Drama in Gothenburg.
2017 Johan Svensson was awarded the price Progetto Positano from Ernst von Siemens Musikstiftung and ensemble mosaik. https://progettopositano.org/
Svensson developed the website http://pianoharmonics.com in collaboration with the pianist Jonas Olsson and the composer Martin Rane Bauck.
CD:s

Stradivarius (2019): The CD Wooden Songs with the percussionist Simone Beneventi including the piece One Man Band.
GEIGER Grammofon (2017): The CD Restoration with Marco Fusi: new music for viola d'amore. Including the piece fieldwalking.
LAWO Classics (2016): CD with ensemble Aksiom including the piece Shiver.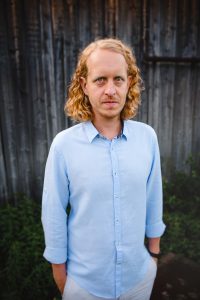 photo: Vid Jakop